Rock climbing Camp 2015
Dear climbers,
We are going to run a commercial climbing camp around mid September in south Crete. Everyone is welcome to join, without any limits on climbing level. Groups will be split based on experience so improvement is guaranteed!
Camping and climbing gear will be provided by us. You will have the chance to get coached from top climbers and climb routes from very easy (4c etc) up to 8c+.
Drop me an email at admin@climbincrete.com if you are interested in to join. Cost to be announced via email as it will be fixed based on the total interest.
Best regards

An overview of climbing in Dikti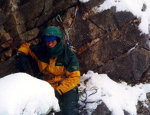 In Dikti you will find the best climbing spot for climbers who are looking for to try traditional climbing routes without dealing with high grades of difficulty. The most difficult rock climbing route is around 6a+ and there are plenty near to 5a/5b+. Having said that, the long routes, the loose rock in places and the long (in some routes) access, contributes to an absolute adventure.
During winter, things are more complicated. Rock, frozen snow and rarely ice, lead to the ultimate escape from the daily routin. Be aware that winter climbing in Dikti's gullies are quiet difficult and is not recommended for newbies.