Almost done....
Dear friends,
It's been many years since Climbincrete been out of dated. That was mainly due to been abroad for business for several years (7+). Climbincrete is getting up to date more and more now. Most of the routes on the web site are now up to date (around 70%). What is most missing are topos of some climbing areas/sectors. Having said that, is easy to follow most of those routes as nowdays most of them are sport and you can follow the whole line from the bolts.
I'm trying to climb as much as possible and then update the relevant sections with my personal experience. If I can't climb something, then I'm trying to get as much as possible accurate description from friends and the related mountaineering club. It will be more than welcome to send me over any comments/routes etc that you might have. Climbincrete, hopefully in the near future, will include most of the existing routes of the island, if not all. My target is to build an online guide, freely available for everyone who loves climbing and like sharing his/her passion and not keep it for himself/herself.
I would like to thanks all my friends who contribute in the past to Climbincrete and especially my friend Nana Koutsandreou.
Best wishes,
Stelios Asmargianakis

An overview of climbing in Dikti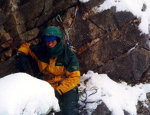 In Dikti you will find the best climbing spot for climbers who are looking for to try traditional climbing routes without dealing with high grades of difficulty. The most difficult rock climbing route is around 6a+ and there are plenty near to 5a/5b+. Having said that, the long routes, the loose rock in places and the long (in some routes) access, contributes to an absolute adventure.
During winter, things are more complicated. Rock, frozen snow and rarely ice, lead to the ultimate escape from the daily routin. Be aware that winter climbing in Dikti's gullies are quiet difficult and is not recommended for newbies.